Fishing on the Norfolk Broads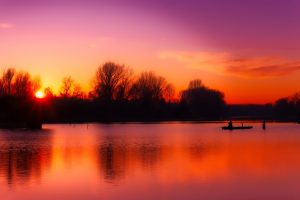 The Broads are the perfect place to get your big (or small) Norfolk catch, with plenty of little-known spots that are gems for reeling in all kinds of interesting fish! Whether you're out for the day, a full week's fishing holiday or are a first-time angler, there's something for everyone to enjoy when fishing on The Broads.
With over 125 miles of waterways for you to explore, there are lots of spots for you to make your catch, and you can also fish from your very own cottage.
Here are some of the best locations, tackle shops and types of fish you can expect to catch, so you're well prepared for your angling adventure.
Top fishing spots on the Broads
There are plenty of free fishing locations and angling platforms on The Broads that don't require you to have a permit to fish to your heart's content, although you will still need an Environment Agency rod licence.
You can also fish from a boat if you would prefer, so there's bound to be a type of fishing that will suit you and your very own adventure. If you have a particular spot in mind, there are also private Broads that offer visits by appointment.
If you want to get out on the water, you can hire a day boat, or a canoe from Herbert Woods, taking advantage of our 25% off discount for Broads Escapes customers.  Enjoy the relaxing pace and enjoy the wealth of wildlife in the area.
Each turn of The Broads is beautiful in its own right, with its very own environment for you to discover. Some of our favourite spots include:
Hickling Broads & Heigham Sound – this lovely stretch of 400 acres of fishing is accessible by boat and promises a variety of catches and landscapes along the way
Salhouse Island on the River Bure – this is the river's top spot with a huge variety of fish for you to catch
Potter Heigham (close to Herbert Woods) – this excellent fishing spot is well-located and promises you a great selection of catches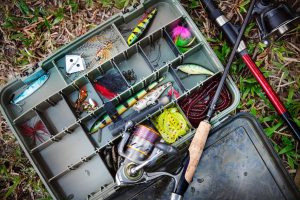 Angling Shops on the Broads
If you've forgotten something vital for your excursion, fear not! There are lots of great tackle shops dotted around The Broads that have everything an angler could dream of owning. With lots of different stock and equipment depending on which one you choose, you'll never have to go without your fishing essentials whilst on The Broads.
Local shops include:
Lathams of Potter Heigham
Bridge Street, Potter Heigham NR29 5JE
AJB Angling
Ludham Bridge
Angling Direct Wroxham
Church Road, Wroxham NR12 8UG
What you can catch
With a kaleidoscope of fish available for catching on The Broads, no two days of fishing are ever the same! Dependent on where you choose to fish, you can expect to find something new each time. However, if there is a particular catch you're after, it's worth doing some research into the best area to find what you're looking to bring home.
Common catches on The Broads include pike, bream, roach, carp (mirror and common), rudd, eels, tench, casters, corn and perch.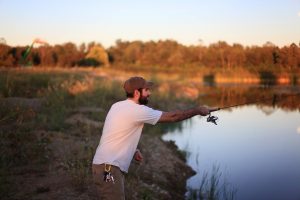 Do I need a fishing licence on the Norfolk Broads?
Anyone over the age of 12 must have a rod licence to fish on the Norfolk Broads in the open season.  These are available for a day, 8 days or a year, and are obtainable from the Environment Agency, or an annual fishing licence can be bought from a Post Office.
Some angling clubs and private lakes will require permission and you may need a permit.
When can I fish on the Norfolk Broads?
The coarse fishing season is from 16th June to 14th March.  Outside these dates fishing is not allowed.
There are certain parts of the Broads which are classed as Sites of Special Scientific Interest (SSSI) or conservation areas, and fishing is not permitted on these sites.
Other things to remember
Please be careful never to leave fishing tackle, even if it gets caught in branches or vegetation.
Don't keep a baited rod unattended as birds can get caught in the line, and a passing boat might catch your line.
Be aware of overhead power lines, and look around before casting your line.
If you are fishing from a bat please remember you need to be moored as you are not allowed to fish and be travelling at the same time.
Did you find this article useful? Why not visit our Broads Escapes cottage holiday page or browse our pretty cottages for hire for more information on our services.