Your Ultimate Cottage Holiday Destination Guide
Are you seeking a tranquil retreat intertwined with an invigorating taste of local life? With its mesmerising waterways, picturesque scenery, rich biodiversity and charming rural communities, the Norfolk Broads offers the perfect setting for a refreshing holiday escape.
At Broads Escapes, we're passionate about showcasing the beauty of this unique region and helping you discover the ideal village to serve as your holiday home base. Let's explore Horning, Ludham, Potter Heigham, and Wroxham together.
Characterised by charming thatched cottages, a bustling riverside, and an alluring range of local eateries, Horning is a true jewel of the Norfolk Broads. With the majestic River Bure flowing gently by, you'll find yourself immersed in the serene rhythms of waterside life. From peaceful fishing spots to exhilarating water sports activities, this captivating village promises a vibrant, yet soothing, experience for holiday-goers. Our cottages in Horning are perfectly positioned to provide easy access to all these attractions.
Ludham exudes a quintessential English charm that captures every visitor's heart. Its winding, quiet lanes, picturesque cottages, and historical landmarks such as the medieval Church of St. Catherine and the iconic Ludham Bridge provide a charming backdrop to your holiday. The village's location between the Rivers Ant and Thurne makes it a favourite for boating enthusiasts and nature lovers. Experience this magical village from one of our cosy and conveniently located Ludham cottages.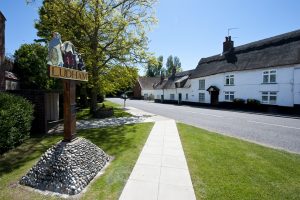 Famous for its ancient bridge and traditional landscapes, Potter Heigham is a haven for those who love history, architecture, and nature. This village, renowned for fishing and boating opportunities, offers the classic Broads experience. Potter Heigham's proximity to the National Nature Reserve also makes it an ideal spot for birdwatching and nature walks. Whether you're seeking adventure or tranquility, our Potter Heigham cottages provide a homely base for your explorations.

Regarded as the 'Capital of the Norfolk Broads', Wroxham is a bustling hub offering an array of attractions. Here, you can hire a boat for an exciting day on the river, take leisurely strolls through the vibrant town centre, or savour local delicacies at riverside restaurants. From your holiday cottage in Wroxham, you can also enjoy easy access to nearby attractions such as the stunning Bure Valley Railway and the adventurous BeWILDerwood.
At Broads Escapes, we believe that the perfect holiday is about more than just your accommodation; it's about immersing yourself in the local life and creating unforgettable memories. Choose from our curated selection of cottages across these enchanting villages and experience the magic of the Norfolk Broads. Many of our cottages are also pet friendly so you can bring your 4 legged friend along to join in the fun!